UPDATE: *POROSHENKO SAYS UN MUST NOT ALLOW FULL-SCALE WAR IN EUROPE
As the game of chicken between Greece and the Eurogroup hots up, it appears another – potentially far more deadly – is escalating in Ukraine as neither side is willing to follow through on the terms of the Minsk Summit peace deal – removing heavy weaponry from the frontlines – as a key deadline passes without agreement. As The Guardian reports, The Ukrainian military have stated that "as soon as the militants cease fire, the Ukrainian side will begin to withdraw heavy weaponry from the frontline," and the pro-Russian separatists proclaim, "We do not have the right [to stop fighting for Debaltseve]," adding that as far as the truce, "we have everything ready for a mutual withdrawal. We will not do anything unilaterally – that would make our soldiers targets."
As The Guardian reports, and Interfax confirms, the situation in Debaltseve is deteriorating…
Kiev on Tuesday reported artillery strikes overnight around the key transportation hub of Debaltseve while the situation in the rest of the conflict zone appeared to be calm.
An Associated Press reporter heard sustained shelling around Debaltseve – where government troops are encircled – on Tuesday morning, some coming from Grad rocket launchers.
A senior rebel representative told Reuters that the separatists cannot "morally" stop fighting for control of the town.
Denis Pushilin also said rebels could not withdraw heavy weaponry, as set out in the deal, unless Ukrainian forces did so as well.
"We do not have the right [to stop fighting for Debaltseve]. It's even a moral thing. It's internal territory," Pushilin said in the rebel stronghold of Donetsk.
"We have to respond to fire, to work on destroying the enemy's fighting positions."
Asked about plans to carry out the agreement to withdraw big guns, he said: "We are ready at any time, we have everything ready for a mutual withdrawal. We will not do anything unilaterally – that would make our soldiers targets."
As AP reports, Russia-backed rebels in eastern Ukraine claimed Tuesday to have taken the key transportation hub of Debaltseve as both parties faced a deadline to start pulling back heavy weapons from the front line.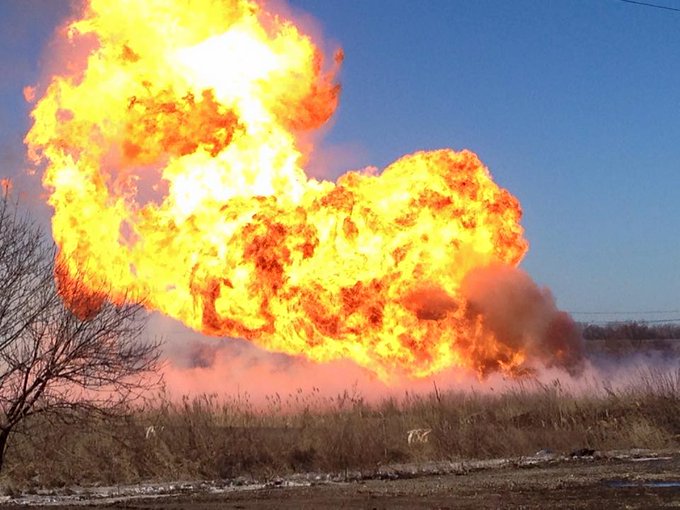 Fierce fighting on Tuesday appeared to be focused on Debaltseve, a government-held town surrounded by rebel forces that both sides claim to be on their side of the cease-fire line. The issue was not resolved under a cease-fire agreement negotiated last week by the leaders of Ukraine, Russia, Germany and France.
Separatist leaders said in remarks carried by the rebel mouthpiece Donetsk News Agency on Tuesday afternoon that their forces have pushed the Ukrainian army out of Debaltseve, gaining control over most of the town.
Rupert Colville, spokesman for the U.N. High Commissioner for Human Rights, told a briefing in Geneva on Tuesday that the UN is "alarmed" by reports of continued shelling in the areas and have not yet been able to get reliable information on the casualties there and the wellbeing of civilians.
"It is unclear how many civilians are still there," he said. "We are particularly concerned about the civilians trapped in the area – we believe there may be a few thousand hiding in cellars, struggling to get food, water and other basic necessities."
via Ukraine "Truce" Fails: Withdrawal Deadline Passes, Debaltseve Situation Deteriorating | Zero Hedge.